History of SDSU Homecoming
Overview
The history of Homecoming at San Diego State University is rich in tradition and pride. Each fall, thousands of faculty, staff, students and community members participate in our annual tradition of welcoming alumni back to SDSU and celebrating what it means to be an SDSU Aztec for Life. The week-long observance includes a football game, this year's game is set for November 4 against the Utah State and music provided by the SDSU Marching Aztecs.
History
Homecoming at SDSU formally started in 1933 and a number of the traditions have remained a part of the celebration through the years. Student leaders are nominated each year by their respective student organizations to be selected for the Homecoming Court. Teams of students compete during homecoming spirit week to win prizes, including the coveted Homecoming Spirit Trophy, and recognition during halftime at the Homecoming football game.
Homecoming has always been a grand affair at SDSU, but in the mid-'70s, the homecoming tradition became dormant. During that time, the U.S. had seen a rise in with activism and was actively managing concerns associated with international threats. SDSU students were also tuned to those national and international issues and concerns. "Alumni from the '40s and '50s often recall elaborate Homecoming celebrations, including rallies, contests, carnivals, parades, and a bonfire, while students who attended after the '60s have a very different set of memories involving political demonstrations, protests, and free speech," said Tom Blair ('71). Blair experienced both sides of the revolution at San Diego State and reflected that "during the schizophrenic '60s—caught in the time between revelry and relevancy, I was struck by both."
In 1979, homecoming at SDSU was revived and over time the week's activities have evolved and include a combination of traditional and new events.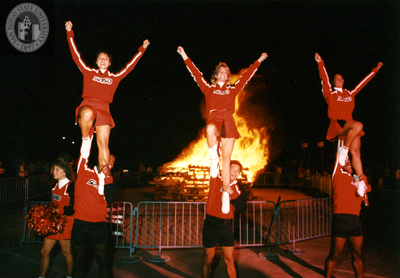 The original bonfire was replaced by a "community faire." It included activities that represented the spectrum of life on campus, university history and the future of SDSU. There was a series of musical performances on campus and free tours of KPBS's campus studios. Films were shown in the Little Theater, and a series of receptions for various past graduating classes were held throughout the day. In the evening, a tailgating event was free to anyone with a ticket to the football game.
Homecoming King and Queen have become the homecoming royals in an effort to be more inclusive and welcoming of all members of our SDSU community.
Push-ball matches were traditionally played following the homecoming game. The object of the game was simple - push the enormous ball over the other team's line. Rivalries then grew between different Greek organizations and grade levels. Now, punt, pass, kick is the annual half time event.
SDSU cheerleading has had a strong presence on campus and during homecoming for years.
Today
Now, traditions include a carnival and t-shirt swap, chalking and pennant making, the OneSDSU event, pep rally, fun run, and homecoming brunch.
Get Involved
We seek to continue to revive the Homecoming spirit each and every year and reflect, embrace and develop past traditions. You can be a part of developing SDSU's homecoming history by sharing your memories, photos, and memorabilia. You can also join this year's celebration and come out to the main events!